Private Instruction with Ann Louise
Ann Louise is a gifted teacher for voice and piano. Firmly rooted in the Recreational Music Making approach, Ann Louise's teaching style is to work with your talents to ensure that you get the most out of your voice or keyboard. The overarching goal is to have fun while consistently increasing your level of technical proficiency.
Ann Louise conducts private, semi-private, and group lessons for children and adults, including:
Piano
Voice
Group Piano Class
Piano for Singers
Vocal Performance Class
---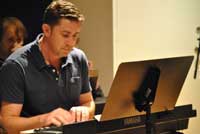 Group Piano Instruction
Ann Louise is certified in the Scott Huston Method for group piano instruction. This is a proven technique to quickly move even beginning pianists from fumbling at the keyboard to performing. Huston developed his method for beginners who wish to sit down and simply have some fun. Purchase Lessons Now
---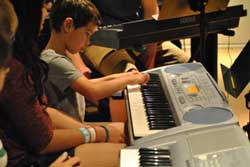 ---
Recreational Music Making
Christensen Music is all about recreational music making – the joy and experience of making music, singing or playing an instrument. Everyone can make music, whether for your own enjoyment or with a group, whether you perform publicly or just for friends. Before radio, film or television, and definitely before the internet made listening to professionally produced music a ubiquitous experience, people made music to entertain themselves and others, to broaden their arts education, and to enjoy music on a personal, intimate level. In fact, making music is one of the characteristics that make us human.


---
Piano Bar 101
Join Ann Louise every Monday evening to "get in touch with your inner Sinatra." This is an intimate yet informal class for group and solo singing. Sign up for four classes, or drop in any Monday night (exlcuding holidays). Sign Up Now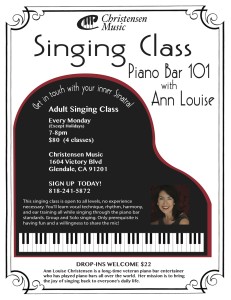 Seminars & Professional Training
Music Performance
Press Kit Seminar
Finale
Logic Pro
Film and TV Production
Voice-Over Seminar
Songwriting Workshop
Scriptwriting Workshop
Ask About Professional Training
info@christensenmusic.com | 818.241.5872
---