Piano, Vocals, & Lounge Acts
Ann Louise has been entertaining audiences worldwide for over thirty years. Her smooth-as-velvet voice and expressive piano playing provide the perfect backdrop for an elegant evening or an exciting main event.
---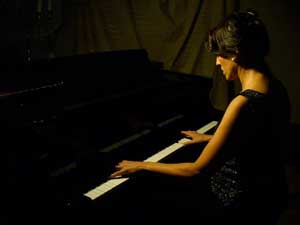 ---
Ann Louise performs frequently with Geno E and the Band of Friends, featuring drummer Geno Escarrega, guitarist Barry Coates, saxophonist Craig Thomas, and bassist, Dominik Genoba, among many other talented musicians.
---
Play Me, by Neil Diamond. Covered by Geno Escarrega.
That's All, by Brandt and Haymes. Covered by Ann Louise Christensen.
---


---
Piano, Jazz, & Classic Rock
Solo piano or accompanist
Jazz duo: Ann Louise & Geno E
Jazz trio: Piano, sax & drums
Jazz quartet: Piano, bass, drums & sax
Classic rock band, covering all your favorites
---
---
Themed Concerts
Holiday in Hollywood– holiday music from the 1940s
Tour de France– cabaret and French chansons
Sunny Side Up– upbeat jazz standards
---
Sing~Alongs with Ann Louise
Ann Louise is available for young children's events and private parties. Ann Louise currently performs twice a week at the Cedar Montessori School in Glendale.
Book a Gig
Send us an email about your special event or party. Give us a little information about what you have in mind, and we'll get back to you right away. <br/ >
---
Now Playing
Catch Ann Louise at her current venues, playing jazz standards and favorites from the American song book at Larsen's Steakhouse in Encino every Wednesday (16101 Ventura Blvd Suite 270, Encino, CA 91355, 818.386.9500).
And don't miss her and the band on the first Sunday of every month at the Parkway Grill (510 S. Arroyo Parkway, Pasadena, CA 91105, 626.795.1001)